Baby Freebie: Free Sample Of Zincospray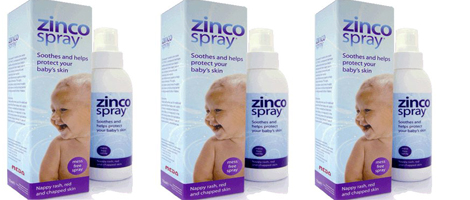 Zincospray is designed to help soothe and protect your baby's skin and will help to combat nappy rash or red and chapped skin. You can now nab yourself a free sample of this ace product by simply clicking on the link below.
To get your free sample, just fill in the form and it will wing its way on over to you without a worry in the world. Like most samples, it will probably take ages to arrive. I've had samples arrive that I'd completely forgotten about and spent a good couple of minutes wondering why someone had sent me them.
Zincospray is a light and non-greasy spray that's easy to apply and creates a moisturising barrier to prevent further irritation to your child's skin. The pump dispenser makes it easy to apply the cream without having to rub the affected area which will definitely make baby feel a lot better.
It contains zinc oxide, chamomile and calendula, all natural anti-inflammatory agents to help relieve irritation. So go on, give it a bash with this free sample.