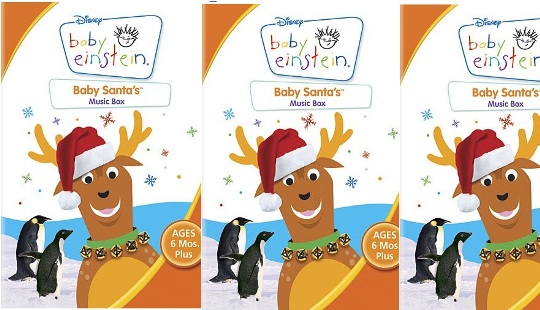 The Baby Einstein DVD range is all about making your kids super smart right from the start. This particular edition – Baby Einstein Baby Santa's Music Box – usually costs in the region of £17.99 but is on sale at Base for only £1.99.
This DVD lets you experience the holiday season through the eyes of a child. It offers three features: interactivity, multimedia programming capabilities and stunning digital playback quality.
Now I have heard quite a lot about the Baby Einstein range and I know plenty of mums who absolutely swear by it. They insist that it has done wonders for their little geniuses. I didn't get the sets because, well, I thought I could just play my own music to my child and get the same results.
This particular DVD isn't really explained very well on the site so I'm not surprised that it is selling for such a discount. Essentially you get a DVD full of music and images that are supposed to capture the spirit of Christmas while also making your kid smart. For such a low price, it could be an ace stocking filler or Christmas gift for a friend's little one.
Thanks to phillyboy at HUKD!