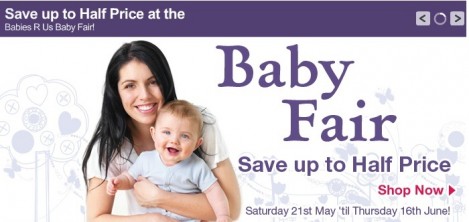 The Babies R Us Baby Fair is back in town and there are some amazing savings to be had. Oh yes, some fabulous money saving delights that will make you beam, especially if you are a mum to be stocking up on much needed essentials. This baby fair has pretty much everything you need but at up to half the original price.
Some of the ace deals in the Babies R Us baby fair include the Hauck Winnie the Pooh travel cot. Styling in beige with adorable Winnie the Pooh motifs on the sides, this travel cot is down from £79.99 to only £39.99. Brilliant.
Then there is the Babies R Us Zen all weather pushchair in Linear (yes, that is, apparently, a colour). Down from £149.99 to only £89.99. Don't want a pushchair? How about the Graco Baby Delight swing in Tutti Frutti for £44.99 instead of £89.99? Or the Tommee Tippee Closer to Nature essentials set that usually retails for £119.99 but is only £59.99?
The Babies R Us Baby Fair has a ton of fantastic deals with some awesome savings, get on over there now!