Avent BPA Free Steam Steriliser £25.95 @ Amazon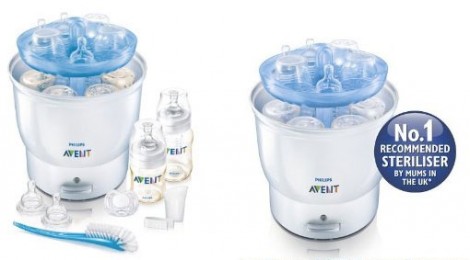 At the moment Amazon are selling this Philips Avent BPA-Free Steam Steriliser for £25.95 instead of £45.
If there was one piece of baby equipment that more than earned its keep in my house, it was the Avent Steam Sterilisr.
Steam sterilisers are, in my opinion, one of the greatest inventions known to man; not quite up there with the wheel and the internal combustion engine, but close.
They are so simple to use, there's no worries about whether or not you rinsed all the chemicals off and they're super fast too.
Just wash all your bottles in hot soapy water, rinse and bung them in the steriliser for about eight minutes and then they're all ready to use again!
This Avent BPA-Free Steam Steriliser holds six bottles, teats and caps. It comes with two bottles, two teats, tongs, measuring jug for water so you know how much to put in, a bottle brush and a soother.
Now, about the BPA-free bit – BPA stands for Bisphenol A, a synthetic chemical compound that is classed as a hormone disruptor and is found in lots of every day items.
If you'd like to read more about BPA just click HERE (I googled BPA and found all sorts of organisations I never knew existed – the British Pig Association, the British Parking Association…who'd have known!)