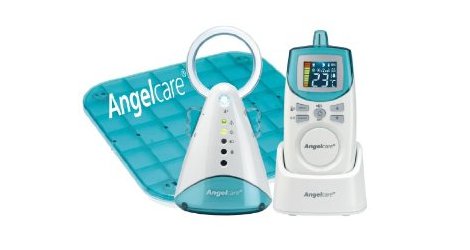 This Angelcare AC401 Baby Monitor and Sensor Pad will provide peace of mind that, in my opinion, you can't put a price on.
I had one of these monitors when my youngest was born and I wouldn't have been without it.  I didn't have one with the older two – I'm not even sure they were available when they were tiny – and the difference in my quality of sleep was very noticeable.
With the Teenagers, if I woke up in the night I would HAVE to go and check that they were still breathing. With my youngest I didn't feel the need to and slept better as a result.
The Angelcare Baby Monitor is a sound monitor so you can keep an ear on whether they are awake when you might be too far away in the house, or there's a lot of noise going on, to guarantee you'll hear them.
It also has a motion sensor mat that monitors the movement from breathing and triggers the alarm should this stop. Contrary to popular belief, I found this didn't make me worry more, it had the opposite effect.
It usually retails for £79.99 and, assuming they don't start tinkering around with the price as soon as I post this, you can pick one up from Amazin for a more wallet-friendly £57.57; hurrah!
If you want an Angel Care Baby Monitor delivered in time for Christmas then you'll need to pay for first class delivery, and order it before the end of tomorrow (Saturday 18 December) otherwise you'll be looking at express delivery charges.
Thanks to Borat at HUKD