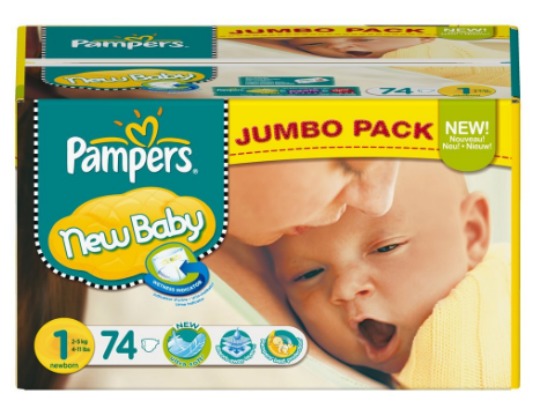 I've never bought nappies online before but Amazon have a deal on Pampers New Baby nappies right now. This jumbo pack of New Baby Size 1 nappies is reduced from £11.00 to £7.40.
This deal amounts to 10p per nappy. These have l-o-a-d-s of positive reviews at Amazon. Of 261 reviews an impressive 218 customers rated them 5 stars. Here's a fairly typical review:
"As a new mum I was quite weary (I think she means wary) about the products I used for my baby, but Pampers never failed to deliver. We tried about 5 different brands overall but none came close to the quality of Pampers new baby (this is the only size we tried as baby's still very little). Here are the features we found to be great:

- Best one: wetness indicator!! It makes life so much easier to just quickly look at the nappy and know whether it needs to be changed or not;
- Fabric is very soft so perfect for baby's skin - never had any irritation from it;
- The "frills" around the legs are even all around which prevents leaking (unlike Huggies);

On top of this the price here is probably the best compared to all supermarkets, some even during their 'baby event' sales, so I would definitely recommend this product."
With a new baby in the house I can vouch for the fact that you can NEVER have too many nappies, so if you're expecting a new arrival soon it might well be worth stocking up on these while they're at this price.
With thanks to tvp30 @HUKD.