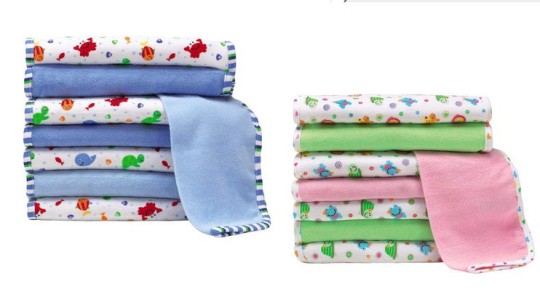 Toys R Us have a free delivery offer on this weekend, which is a brilliant saving if you're looking to buy from them. Often even their sales aren't great because of that delivery charge, so this is a bonus indeed. One of the items we spotted is a set of 8 wash cloths for £1.96 available in either pink or blue, and delivered free. Bargain.
As a mum who cloth nappied both her children, I must say that once you've used cloth wipes for a while, it's really hard going back to disposables. Even if you only use cloth wipes for wet nappies and the abundance of daily opportunities for wiping faces and hands,  you'll save yourself a fortune on wet wipes over the baby years, and 8 or 16 extra bits of cloth aren't going to add massively to your wash pile, whether you use cloth nappies or not.
You will however, save yourself a fortune in wipes, and a lot of chemical exposure on little skins too.
These cloths are supposed to be really soft, and one reviewer actually complains that they're a bit too fluffy. No pleasing everyone, I suppose. They have lovely designs and are nice, gentle colours too. Overall the reviewers love them, and at under 25p each you can't really complain about much!
Thanks to MissSaver at HUKD