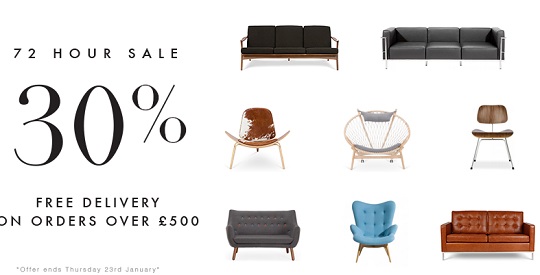 This is not a site for quick, impulse buying, I'm afraid. Nope, this is where you go to drool over gorgeous furniture and home essentials and wait for them to go into the sale so you can grab them for yourself. Today they are holding a sale of 30% off for 72 hours on a lovely range of items.
I visited the designer chairs section and nearly fell over. Wow, these are beautiful, but you will need to save up a bit for one of these even though they are in the sale. Well, I would have to anyway! You will see some excellent discounts though, which is great, such as the Charles Eames chair that's now on sale for £453.60 instead of £648 which is a saving of nearly £200.
The prices have all been reduced by 30% and you can choose from Designer Sofas, Designer Chairs, Designer Storage and Designer Lighting.