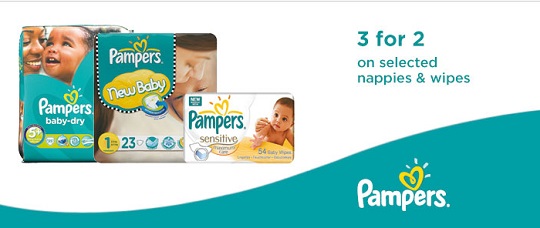 Boots is offering 3 for 2 on selected nappies and wipes in their Pampers section on their site. It's a good deal for those of you who need to stock up on baby essentials for the half term holidays.
You will find a rather impressive variety of items included in the special offer. There are the Pampers Baby Dry nappies in a pack of 22 in size 3, Pampers sensitive baby wipes at 4x 56 packs in one, Pampers fragrance free baby wipes in packs of 4x64 and Pampers Baby-Dry nappies in size 5 and packs of 16.
There are underjams, baby fresh wipes, a rather staggering array of nappies in different sizes, shapes and ages and you can stock up on nappies for your kid from now until they are potty trained. And probably beyond that if you use night nappies or active fit training nappies. It's a pretty good deal here and great for stocking up.