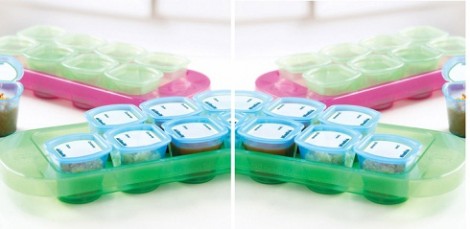 When my son was a baby, the current thinking at the time  was that six months was a good time to start weaning, particularly if you have a family history of allergies and asthma, as we did.
Weaning on to solids coincided with my return to work. I worked full time, four days a week in an office with an hour long commute each way. I got these Small Weaning Pots with Trays from JoJo Maman Bebe so that I could freeze his meals in large batches once a week.
I could have used an ice cube tray - a lot of articles I read at the time recommended this approach. My son however had a very big appetite, and the ice cubes looked rather small. I also liked that the weaning cubes had lids.
The lids clip on securely, and firmly. They kept the contents of the cube inside, with no leakage when I was out. Although I should point out I carried them stacked in the insulated bottle pocket of my change bag, so they were pretty much upright all the time.
I never did use the labels. In fact I'd forgotten about those until I read the product description again. I guess they're still in a cupboard or drawer somewhere! I did buy a second set of these trays. So that one tray would have, say, mashed potato, sweet potato, and carrots. Another tray would have mashed up whatever it was that I'd cooked for our own dinner. Another tray would have finger type foods that he could much on like sliced carrots. And the fourth would have foods he liked, such as spaghetti bolognaise. Like a lot of pre-two year olds, he was immensely adventurous with his food and would much down on anything I gave him. He loved garlic, and the more garlicky a food the better! I found him once at the age of 15 months munching on raw garlic he'd sneaked out of the fridge.
The cubes sit in their own trays in the freezer making it easy to keep track of them, and to keep them in one place.
I still use the cubes now. At least I use some of them. I gave a couple of trays to a friend when she started weaning baby number two. The others I kept and I use them for storing my own dried herbs, or for putting sugar in when we go on a picnic, that sort of thing. They've proven to be immensely handy over the years!
You get two trays with eight pots each, and 50 labels. The pots are dishwasher, freezer and microwave safe. And the plastic used is BPA free. Each cube measures 4cm by 4cm and holds 38ml, which is about two tablespoons of food.