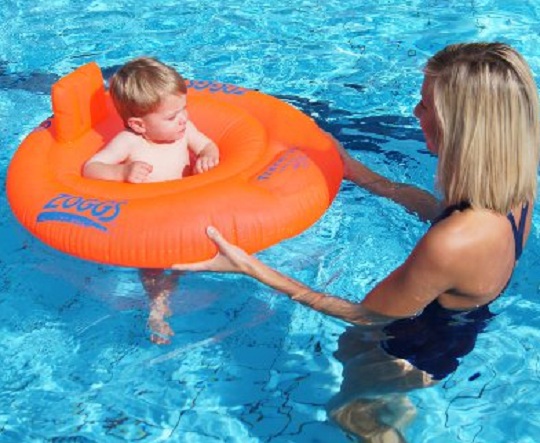 Sportbaby has slashed their prices on selected kids swimwear and UV wear until Friday 16 August. Discount is applied at checkout, no code is required. This Zoggs Trainer Float Set which was £14.99 has been marked down to just £11.99. Standard UK delivery is charged at £2.95 and normally takes between two and five working days.
Heading for the pool this summer? Take the stress out of your little one being around the pool. The Zoggs Trainer Float Set is the perfect way to get your little ones into the water and to enjoy the experience. Zoggs trainer-seats are designed to allow your child to sit confidently and float freely in the pool allowing him/her to get used to the feel of the water. This stable secure seat also boasts a pillow at the back for comfort.
Available in sizes, 3-12mths up to 11kg and 12-18mths up to 15kg it also has dual air chambers with separate safety valves. Please bear in mind that children need to be supervised when near the water AT ALL TIMES and these flotation devices are not a substitute for adult supervision.