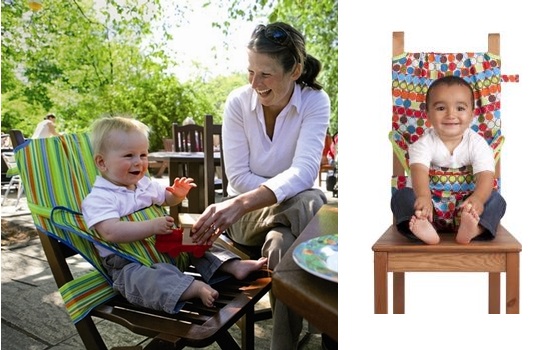 Use this HippyChick promotional code to get a discount of 20% off its Totseat Travel Highchair, priced at £24.50. Standard UK delivery is £2.95.
Click here to get your Hippy Chick totseat
Discount: 20%
Applies to: Totseat Travel Highchair
Promotional code: HCBLOGTOT
Expires: 31st August 2013
I had one of these when son was a baby, and I can highly recommend it. The seat was brilliant when we were travelling. Although it is really a good idea to feed baby yourself when it comes to the messy stuff. Babies can get food all over the seat, and if you have to wash it out in the morning, it might not be dry by lunchtime.
To use the code you will have to go through checkout. Enter it in the HippyChick voucher code box, and when you get to the Confirmation page you'll see that £4.90 has been deducted from the bill.
The Totseat is compact, squashable and washable and perfect for babies from around 8 - 30 months.  It is the most versatile on the market, converting high-backed, low-backed, knobbly, open-backed or rounded dining chairs into a safe haven for your little one.
Totseat is really easy to use, simply slip over the chair back, adjust the length, clip firmly, and sit back and enjoy.  The cummerbund prevents your little one going through the back of a gappy chair, as well as providing additional support, if required, when wrapped around a chair and child.
You'll find all Hippy Chick voucher codes in our Vouchers section!
Thanks to tigerlilley117 at HUDK!