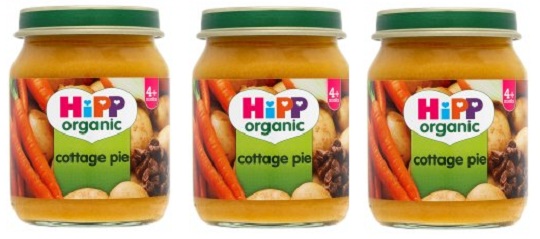 Catch the fabulous Tesco Loves Baby Event and save a fortune on everyday products for babies, toddler, kids and parents. You can pick up fantastic offers on baby and toddler essentials such as nappies, wipes, toiletries and baby food. Like getting10 Hipp organic cottage pie jars for a just a Fiver. Either order online and collect from your nearest Tesco or add sign up for Tesco's Delivery Saver and have your groceries delivered from just £7.50 a month.
Hipp's organic cottage pie makes feeding your baby easy. From four months you can try your baby on solids and while baby care experts recommend you start with veg and then graduate up to more complex tastes and textures, cottage pie was a winner with both my kids at about six months.
Made from the finest organic ingredients, picked at the peak of their ripeness and individually steam cooked, this delicious baby food bursts with goodness & flavour. It contains beef, potatoes, carrots and onion and qualifies as one serving of veg. Each jar contents are gluten free and have no added salt, milk products, artificial colours, GM or preservatives.