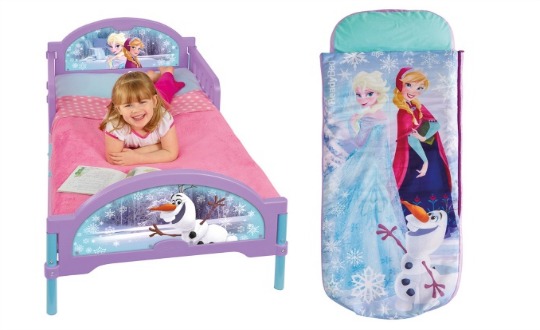 If you are lucky enough to have a B&M store near to you, especially one of the B&M Home stores, then it might be worth a visit this weekend. On top of their already super cheap prices they have a further 10% off all furniture from today until Sunday 1st March.
Looking at the kids furniture and storage items that they have I'm very tempted myself! It includes things like Kids Ready Beds which start at £9.99 before the discount, wooden storage benches for £14.99, toddler beds for £59.99 and there's even a single bed frame for £29! That works out at £26.10 this weekend! As their special offers marketing team say, "WOW!"
By the way that Toddler bed that works out at £54? It's a Frozen* one. And they have a Frozen Ready Bed too.
The bad news (sorry) is that B&M still don't offer online shopping, even for large bulky furniture items, so it's a case of looking online, and ringing your local store to check if they have what you want in stock.
You don't have to stick with kids furniture, and there's a surprisingly large range online, but what they stock in your local store will vary according to the size of the branch. I'm hoping they have some of those storage shelves in our branch, as I missed the lidl ones a few weeks ago.