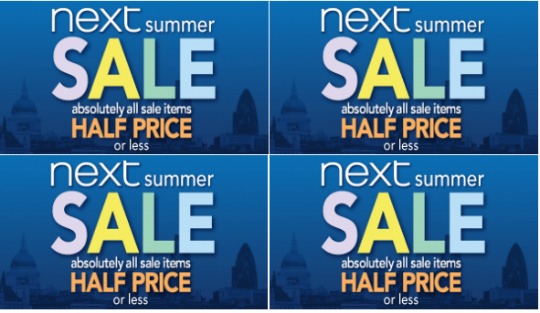 Hold your horses! We know you are very excited and we are too. I got talking to one of the managers in my local Next who kindly gave me a date for the Next End of Summer Sale. Let's assume he is right. After all we know they get briefed about the sales well in advance. Next have started to sell some real good brands so I will be keeping a close eye on what's getting reduced. You can guarantee that we will remind you to check your emails for VIP spots too, nearer the time.
So, when is the Next End of Summer Sale? Saturday 18th July. Be early though as the queues form from the crack of dawn to snap up those cut price trendy goodies. It's a while away yet and we will remind you about it nearer the time it's nice to know when it is so you can save up, right?
Remember, if you have an active Next Account then you may well get offered a VIP slot, which gives you the chance to buy before the masses descend.
Don't own a Next Account or haven't used it for six months? You can save £10 when you spend £15, find out about that here.
If you cannot wait for the sale to begin then you just have to check out the existing Clearance Selection*.