ViNCi - A Tablet PC For Babies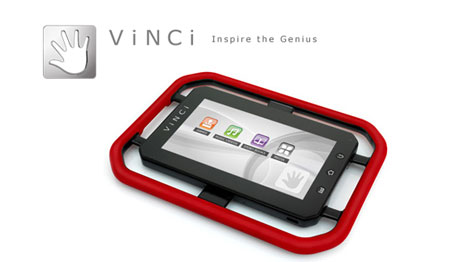 So what do we think about this then?
Should babies be introduced to tech' asap? After all, we live in a technological age which is advancing at an ever-increasing pace.
Or should we help them avoid the clutches of the computer for as long as possible?
My youngest is almost five and he has an iPod Touch, he's also very happy messing around with his dad's iPad and all the other gadgets and tech' they have in their house; it's quite amazing to see him so familiar with it all and using it without a second thought.
I'm not sure there are many parents who would willingly hand over their iPad or Samsung Galaxy to their very young toddlers though.
The ViNCi was invented by a mum and has been specifically designed for toddlers and beyond.  It's not supposed to be just a toy to keep the kids quiet or a kiddy version of the iPad.
It says on the website...
VINCI leverages the most advanced technology combined with specially designed apps to bring a new approach to early learning
I can't tell you how much it's going to cost or where you'll be able to get one from yet, as it's not due for release until the summer.
But if you like the idea of the ViNCi then sign up for their newsletter over at their site and they'll keep you up to date with everything; until then you'll just have to share your iPad or Galaxy and put up with the sticky little finger prints all over it!