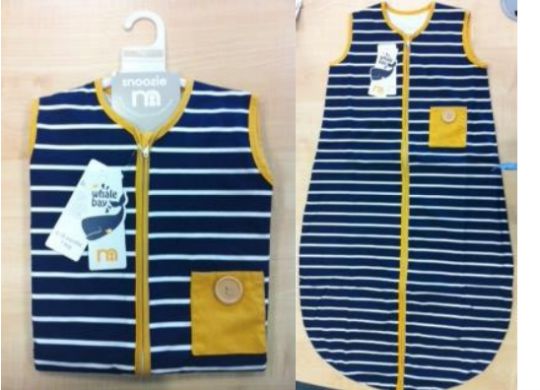 Look at the picture above. Do you own one of these? Maybe you know someone that does. Let them know that they are currently being recalled by Mothercare. This is due to the decorative button located on the front yellow pocket. It has no functional purpose, and may present a small parts hazard. Choking hazards are always a serious recall issue. As these are used on a baby's item, when they are left alone at bedtime, it's important that you follow the instructions set out by Mothercare.
These Whale Bay Sleep Bags were sold from the 2nd February to the 24th August 2015 and are the only design to pose a problem.
Mothercare are advising you to remove the button yourself and the thread that attaches it, or take it to your local Mothercare where they will remove it for you. If you aren't happy with simply removing the button then you can return the Whale Bay Sleep Bag for an exchange or a refund.