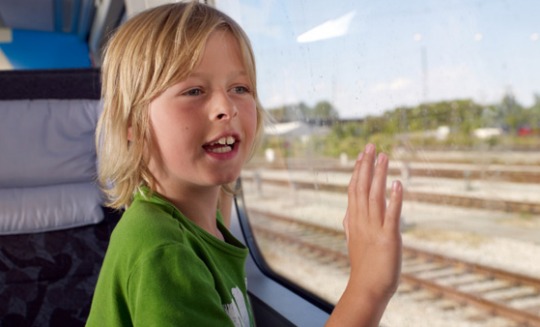 It can be hard travelling with small children but as I have travelled by train and coach four times a year on big journeys and used public transport daily with my kids in tow, I feel like I learnt something along the way. Here's my list of tips on how to cope when you have to travel with young children, even if you are a lone parent.
Tip One: Don't stress out or pre-empt bad behaviour.
Trust me getting stressed just makes the kids worse and they will just revel in your misery. If you plan ahead with what's happening, what to take, then all should go according to plan and if it doesn't then so be it. It's not going to kill you if the train is late or you miss the bus. Stay calm and take control of the situation. I have shed many a tear getting myself in a flap and the kids just get all "moany" and "stressy" too. Traveline* are a good way of planning journeys by bus, coach, train and ferry.
Tip Two: Pre-book Tickets.
Plan your journey and buy your tickets as far ahead as possible. Not only will you save money but you will take the stress out of having to buy on the day. Always reserve seats if you can. Most coaches will have a three seat row at the back which is ideal if it's you and two kids. You may want to consider sitting near the toilet as children can need to go frequently. You can buy your train tickets and railcards at VirginTrainsEastCoast*. Travelling by coach? Get booking the Megabus* (fares from £1.50) or National Express* (Fares from £6).
Tip Three: Getting on and off the Train/Coach/Bus.
That can be the most stressful part. Don't be afraid to ask for help, whether that be from staff or a passer-by.  Coaches are actually the best for getting on and off. More often than not your driver will take your luggage and store it. When I travelled with a baby in a car seat, the driver would lift that on for me as I got my toddler on too.  The train isn't so easy, you have your suitcases to juggle, along with the kids. Ask at the station information desk if you can get assistance. If you cannot, then ask the gentleman or lady next to you to help. More often than not people will help. Grab yourself a lightweight stroller like this BabyWay Park Elite Pushchair* to whizz between platforms.
Tip Four: Give the kids something to carry.
I used to travel frequently from Scotland to Birmingham by train and had to catch a bus to get to the nearest station. With a three year old and a five year old plus a week's worth of luggage for three people that is not easy. I would always wear an across the body bag for ease of getting my tickets/money out and the kids were given a backpack* each to wear. You can always use a Trunki* too to make it more fun.
Tip Five: Take food with you.
I know, I know. You want to keep baggage to a minimum but in those little backpacks mentioned in Tip Four are your children's lunch/snack/dinner. You do NOT want to be spending precious holiday money on the costly food at train stations, service stations or train buffet cars. If it's a long journey use ice packs* to keep it cool. Let the kids pick and choose what they want for their exciting moving picnic. Not wanting to take food? Look out for offers like this 20% off Onboard Food at VirginTrainsEastCoast*.
Tip Five: Keep them entertained.
Again, stick a couple of travel games*/comics*/colouring books* in those backpacks. I will be honest and say I took my laptop so they could watch films with earphones. I had an adaptor so they had a set of earphones each. Games like I Spy* is always good to keep little ones attention.
Tip Six: Take no notice of other people.
Sometimes, it cannot be helped if another passenger has to sit with you or your child/children. Don't sit fretting about your child's behaviour. Most people have had children themselves and understand. Some go beyond and will support you on your journey. I once had a young guy sit at our table, on the train  playing shops with my boys for a couple of hours. Not everyone is judging you if your child cries or gets restless. If anyone complains about your children, you could always hand them some Earplugs*.
Tip Seven: Point out the sights.
Don't get so hung up on keeping them quiet that you miss the beauty of travel. Tell them what that building is or who plays at that football stadium. Count down the train stations. Just try to avoid telling them about the Tay Bridge disaster whilst you are going over it, to avoid hysteria.
Tip Eight: Make your travel space as comfortable as possible.
Give the kids a fleecy blanket* and/or a travel pillow*. If they can sleep for a chunk of the journey, then you won't get any bother out of them whatsoever.  Put them in at the window seat if possible in case you need in and out.
Tip Nine: Plan for eventualities the best you can.
Does little James vomit every time you go on a bus? Use a travel sickness band* or take sick bags*. There's always going to be things that you can't help. You can stick a couple of plasters in your bag or some sachets of Calpol* but the rest is in the hands of fate.
Tip Ten: Remember you are travelling with kids.
They are going to get bored, need the toilet, get hungry, get fidgety and get on your nerves. That's okay. Once you get there and you are on holiday or on that special trip, no-one will care about that train/coach/car journey. Even adults get fed up with travelling. Just make sure you don't make things impossible. If you have a five minute connection at Newcastle Station, have three suitcases and two little people in tow, the chances are you are going to miss that train.
Plan ahead with children in mind and all will be okay.