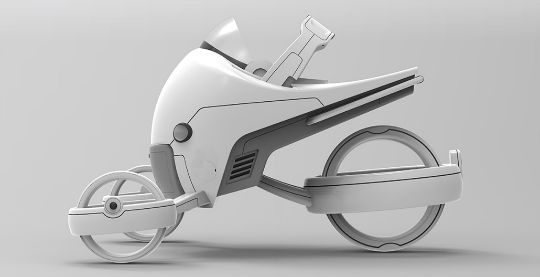 It does look like a cross between Alien and Robocop, but this futuistic vehicle is actually a design for a baby's pram. It's called The Strollever and it's a design concept by Kim Hyeonseok on the Yanko Design website.
The Strollever may look like a baby stroller from Tron or Oblivion, but it's just a humble little tot carriage designed to keep your earthling safe and sound.

The highlight of the Strollever is its gyroscope suspension system. No matter what terrain you travel on, your baby always remains safe and upright. Coupled with features like UV resistant glass, headlamps, storage, and hub-less wheels, this pram is like a Bentley for your little one!
The main theme seems to be safety, and that with the gyroscope at the centre the baby will remain level and unshaken - no bumps, tipping, no toppling over. It also has a UV sun shield and headlights to complete the spaceship effect.
At this stage this is very much a high level design and there are no plans to bring it to market, but perhaps a gyroscope suspension will be a feature of the prams and pushchairs of the future, who knows?
You can see all the features and design of The Strollever on the Yanko Design website here, and we would love to know what you think of it.
Picture credit Kim Hyeonseok /Yank Design.