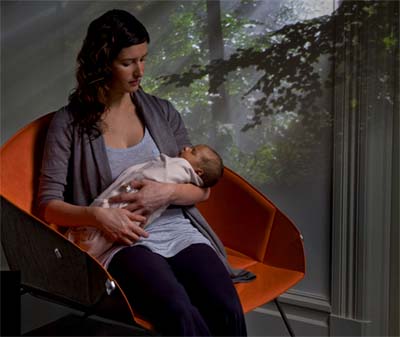 I'm easily pleased and things, or people,  that can perform more than one task or have a multi-function please me immensely.
The other week Lynley wrote a feature about how to avoid the new parent money pit, and it's a HUGE deep one you don't want to fall into! So when manufacturers come up with prototypes that do more than one job, the two for the price of one bargain hunter in me springs to life.
I then go on a bit of a consumer to anti-comsumer rollercoaster ride. What do you think of the Koo - a multi-purpose multi-tasking item of baby furniture from the design company Lunar?
It's a moses basket type thing (although obviously not a basket) when all the sides are up and a rocking chair for you and baby with one of the sides down.
Consumer me: GREAT idea! Ideal for people who don't have much space and you essentially get two furniture items for the price of one.
Anti-consumer me: Koo, what a load of old guff! Pad out a large whicker linen basket and use that as a moses basket instead and just sit on your sofa or the edge of your bed. Cheap, simple, easy peasy!
And although it's a just a prototype, I have to say I think it looks pretty naff and not remotely comfortable for either baby or grown up.
What do you think?  Hit or miss?