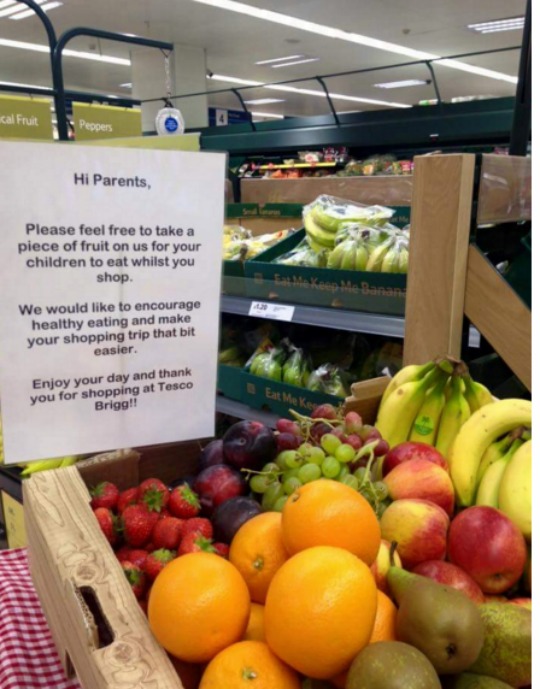 A Tesco store in Lincolnshire has been praised for giving free fruit to children to eat while parents do their shopping. The store in Brigg had left a crate of fresh fruit for children to choose from with the following notice attached:
Hi Parents, Please feel free to take a piece of fruit on us for your children to eat whilst you shop. We would like to encourage healthy eating and make your shopping trip that bit easier. Enjoy your day and thank you for shopping at Tesco Brigg!!
Tesco shopper Vicci Skinn posted a photo of the sign on Tesco's Facebook page with a message complimenting the store on the unusual gesture.
I just wanted to say how wonderful it was to see this display in our local Tesco today. After seeing all the sweets out for Halloween this made a refreshing change and offered parents/carers a choice of some delicious fruit for their little ones to sample. Well done Tesco Brigg.
The response has been overwhelmingly positive, although some have pointed out that there is a level of trust that some may take advantage of by helping themselves to a lot more than one piece if fruit, though the security cameras may give those people pause for thought. Others have suggested that perhaps grapes should be removed from the selection due to the risk of choking.
On the whole comments have been full of praise for the store staff for their gesture, and it has been seen as a very family friendly move. Would you like to see your local store do this, and would it make the weekly shop a but more trouble free? Let us know what you think in the comments or over on our Facebook page.
(Image credit Vicci Skinn Facebook)