Tesco Value 'Really Good Action Game'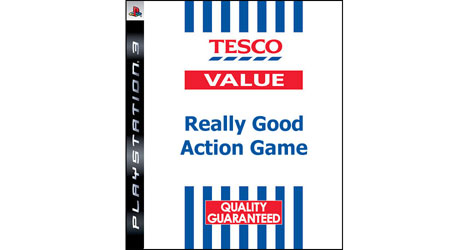 Very occasionally I drop into Dealspwn - one of the other HUKD blogs - to see what my tech' colleagues are up to and what's going on in the world for gaming geeks!
As part of their Big Birthday BlowOut they've recently run a competition, the title, and brief,  of which can best described as 'Games you'd like to see...'
The esteemed panel of judges have managed to narrow down the entries to FIVE - you can see them all here if you wish - but by  far my favourite was the Tesco Value 'Really Good Action Game'.
It tickled me no end! Computer games, particularly the new releases, can be hellishly expensive. If you've got three children, like me, who all like different genres and are different ages you can easily kiss goodbye to £100 in a matter of seconds.
I wonder if I'd be able to persuade the Teenagers to go for a 'Value Action Game' or a 'Value Brain Training' (no that's not a euphamism for going to a under-performing school!) and maybe Sainsburys would come up with an 'Essentials' range to rival the Tesco Value branded games and there'd be a price war and EVERYTHING!
Ok, back to reality. In a country where everything to do with money is going up, apart from the amount paid into your bank account each month, if you could have any product 'Valued' or 'Essentialised' what would it be?
Drop us a line and let us know...