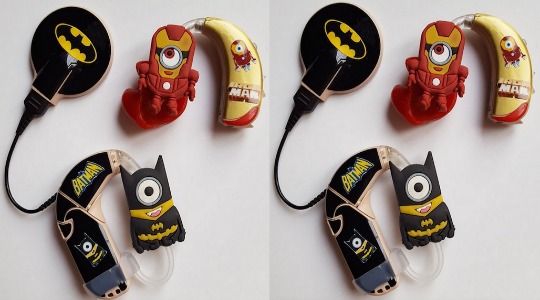 If you have a child with hearing difficulties you will have many worries and anxieties surrounding them. One of the main ones I have come to realise is that quite a few children refuse to wear them. How do you combat that? Make them more appealing to little ones like 29-year-old mum-of-two did.
It's true most hearing aids are beige and totally unattractive through the eyes of a child. Mum Sarah Ivermee started up her own business called Lugs, where they sell kits to decorate and modify hearing aids and implants for children.
Kits start from just £10.99 but we bet you would pay £££ if it meant your child was happier with their hearing aid/cochlear implant. There are some great designs to choose from featuring Batman, Disney Frozen and many, many more.
The kits are easy to use and consist of specifically cut vinyls to fit your device, stickers and PVC charms. Have a look if your little nipper uses a hearing aid or has a cochlear implant, as there are so many to choose from. You can check out Sarah's site Lugs, here.
Stories like this really warm your heart. Something so simple that make hundred of children much happier. Well done Sarah!
Image credit: Lugs