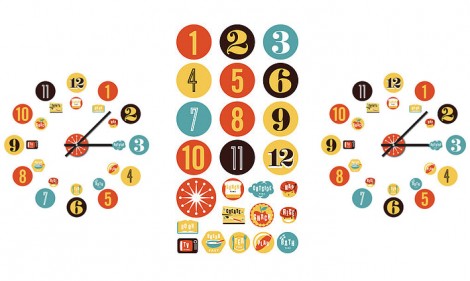 OOOOH I love this!
Just take a deep breath when it comes to the price and focus on how fabulous this Stick-a-Clock is instead.
Kids love learning how to tell the time and this is a different, fun and funky way of introducing them to the world of hours and minutes; not only that, it looks cool on the wall.
So in your Stick-a-Clock parcel comes the clock mechansim and hands, along with numbers 1 to 12 (obviously) and various other stickers depicting various activities that your child will engage in during the day - such as 'breakfast', 'bath' and 'play'.
All you have to do is positiong the clock part on the wall and arrange the stickers around the outside of it, with the activities positioned in their relevant time slots.
You could always make your own activity stickers too and shuffle them around depending on whether it's the weekend or weekday, school term time or holidays.
The stickers have a matt, fabric texture and are PVC free and you can reposition them many times without causing damage to your wall or tearing.
If you like quirky and something a little different from the norm' then this Stick-a-Clock could be of interest to you.