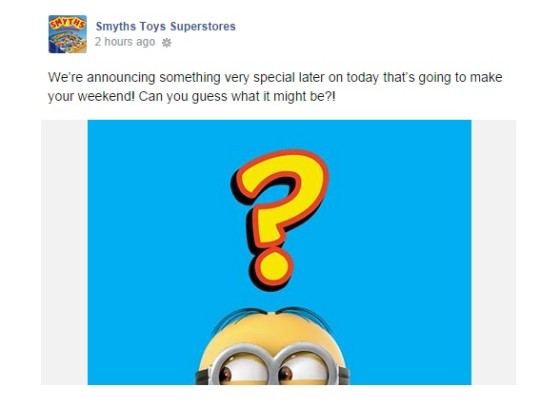 Updated:  News finally in from Smyths. The sale starts tomorrow and runs all weekend, but it is IN-STORE only! It IS 20% off, and they say that it's on everything - there are no exceptions listed. Friday 19th to Monday 22nd... will we see you in store? 
We've had so many emails and requests for information about the Smyths Toy Sale that's rumoured to be on this weekend.
If the rumours are to be believed, there'll be 20% off toys - this is what they've done previous years - but Smyths themselves are being very tight lipped about it.
They did however, post the image above on their Facebook page earlier, saying that they would be announcing 'something' tonight.
Last year the sale was online, but the site crashed and a lot of people were left unhappy. Now there are rumours that the sale will be instore only this year, Friday to Monday - based on last year again, that will see people queuing up outside well before the shops open. (Between that and the iPhone launch, the streets will be full of people overnight!)
We are carefully monitoring Smyths and our inboxes and rest assured that we'll let you know as soon as we do. What we do suspect though, is that the sale will start tomorrow, and that it will be very, very busy, and very, very popular.