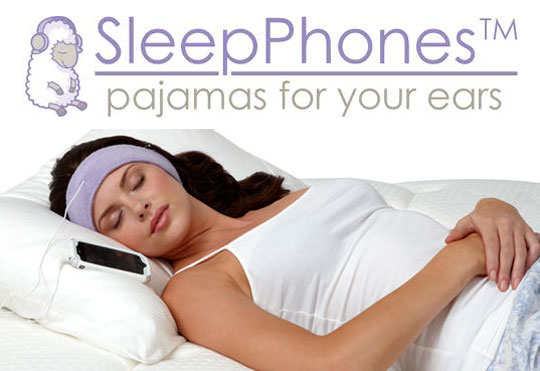 I. WANT. THESE!
In fact, everyone NEEDS a pair of these SleepPhones, which are being hailed as 'pyjamas for your ears'.
If you have a partner who snores - you need these.
If you take it in turns to get up with the baby/toddler/child who won't sleep - you need these for when it's NOT your turn and don't want to hear the household mayhem when you're still trying to sleep.
If you like listening to audio books, music, meditation things at night time but your partner doesn't - you need these!
If you travel overnight (on night flights, for example) and want to block everything out - you need these!
On various occasions, due to all of the above reasons, I've been in need of SleepPhones and even at £37 a pair, I think they're a bargain.
Sleeping with headphones in your ears is not one of life's most pleasant experiences; it's uncomfortable, they fall out and there's always had to be a better way.
It's never even occurred to me that there might be a solution out there on the market, so I've never looked; I came across these SleepPhones because I was sent a press release for them and I've been in a mild state of excitement ever since.
Essentially, it's a headband that has integrated headphones which sit comfortably over your ears, rather than IN them.
The headband can also be used as an eye mask too, to block out unwanted light - see, PERFECT for shutting out everything and everyone!
The headphones are removable so you can wash the headband and it comes in different sizes.
The SleepPhones can be plugged into any MP3 player and were designed by a family doctor to help his patients fall asleep more easily, without having to resort to drugs.
Sleep deprivation is miserable; taking sleeping pills can be a slippery slope; £37 for a set of SleepPhones, which come with a money back guarantee if they don't work for you, a BARGAIN.