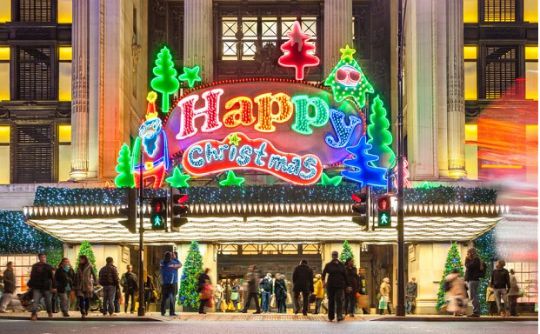 Oh my goodness. I know it makes me sound really old, but it does seem that Christmas gets earlier every year in the shops. We are used to the start of it as soon as all the summer stuff gets moves out of the shops. They clear out all the sun tan lotion and swimming costumes and start with the crackers and baubles. But the beginning of August?
Selfridges in London has opened it's Christmas Shop, and it's bustling. The flagship London store has 3000 feet of it's fourth floor made into a winter wonderland, full of tinsel, baubles, cards and other glittery wonders. Even the big man himself is there (that's Father Christmas, not Harry Selfridge).
Apparently Selfridges have a team who work on Christmas all year round, as many large retailers do, but opening the department this early is a little unusual, and has set them apart from every other store in the country.
Geraldine James, Selfridges Christmas home and decorations buyer, told The Telegraph:
Despite the summer weather, we're in full festive mode here at Selfridges. We've been working on this year's Christmas Shop since Christmas last year. We have so many customers visiting from all over the world and eager to snap up festive souvenirs on their summer holidays, which they can't buy at home. So, we have to make sure we're ready to showcase Christmas decorations they will truly treasure.
So that's their reasoning, but with many us still looking forward to our summer holidays do we really want to see our first baubles yet? I'll take some mulled wine if there's any going, but there's plenty of time for the rest of the festive fripperies. (Christmas present shopping is another matter entirely... I start that in the January sales.)
What do you think of this? Are you dying to visit the Selfridges Christmas Shop, or looking at your screen and screaming "Too soon!!"?