Present Solutions For Those Awkward People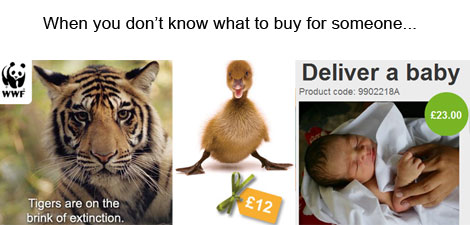 I've been musing about whether or not to write this post for a few hours, but have decided I'm going to.
I spend most of my time here finding, and talking about, things to buy for ourselves; I'm going to turn the tables for this one.
I love Christmas.  I adore everything about it.
I'm currently listening to Classsic FM and they are playing a choral version of 'Have Yourself A Merry Christmas' - there are Christmas garlands with fairy lights spiralled round the banisters, a wreath hanging up at the front door and the rest of the house will be festively decorated shortly.
The ONE thing I utterly loathe about Christmas is the annual ritual of asking my mum and dad what they'd like for Christmas, knowing they're going to say, "Nothing...we don't need/want anything, so don't worry about it."
Well, I like to do SOMETHING to mark the occasion, so for years I've bought practical presents for the awkward pressie people in my family.
My 15-year-old daughter has no real clue what she'd like for Christmas this year - she's another one who says she has everything she wants/needs *sigh*  She's a BIG animal fan and wants to be a vet, so this year I'm going to adopt a tiger in her name.
Now, there are LOTS of different organisations and charities who organise the giving of practical presents, animal sponsorship and adoptions, and everything else along these lines
I'll link to a few for you, but if this is something you'd like to do then I recommend doing a bit of research and choose something that fits most comfortably with you; these are just a few that I know of and have used.
Gifts can be one-offs or you can sponsor a child, an animal or make a on-going contribution to a project - it's entirely up to you.
Practical Presents - £8 will provide a family in Kenya with a fireless cooker
UNICEF - £19 will provide warm, cuddly blankets for seven children in hospital or day-care centres
Dogs Trust - you can sponsor a dog for £1 a week, and if you're local to the one you choose you might even be able to go and visit them.
WWF: Adopt a Tiger - there are as few as  than 3,200 tigers left in the wild. You can adopt one and help prevent their extinction for £3 a month
There are so many others; I wish I could list them all.
Giving presentts like this works for me on all sorts of levels
It solves the perennial problem about what to buy for those awkward people - there does come a stage where socks, a book token or a scented candle just doesn't cut it anymore.
It goes some way to balancing out the 'guilt' I feel every Christmas because we have so much already (guilt's not really the word I'm looking for...but it's the closest I can get to what I mean)
Someone else in the world (whether they be two or four-legged) is going to benefit from those presents.
BUT more important than that, it's taught my children to think about more than just themselves.
Don't get me wrong, they can still be self-centered, self-absorbed sods BUT to see, and hear, my youngest (he's four) getting his head around giving my mum and dad a herd of goats who will live at someone else's house far away so, "does that mean we can't go and stroke them?" is incredibly endearing.
I'm not sure how he'd like to be the one getting non-existent goats but I hope this is all going some way towards creating thoughtful, caring and community-minded individuals.
And they'll never be stuck for something to buy for awkward present people!