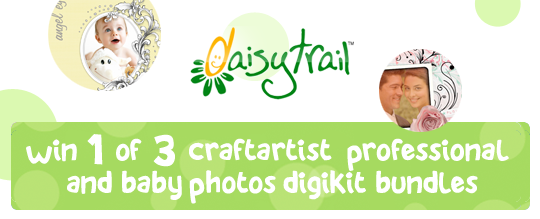 *** Competition is now closed and the winners will be added here when chosen ***
Taking beautiful pictures of your little ones is easy. What isn't so easy is finding a good way of showing them off to family and friends. This is where CraftArtist comes in, and you can be the lucky winner of one of three fantastic bundles worth £45 each.
PlayPennies has teamed up with creative software publisher, Serif, to give away three bundles of their brand new digital crafting program CraftArtist 2 Professional, and the fantastic Baby Photos Collection. Each bundle is worth £45 and is perfect for parents who want to make high quality baby photobooks, stationery, cards, scrapbooks and more at home.
The software is quick and easy to use and you'll soon find yourself whipping up gorgeous creations that look amazing. Just in time for Christmas too! Imagine the Christmas gifts you could make with one of these bundles?
Using the CraftArtist 2 software you can make designs personal with text, embellishments and photos too. Check out their website for more information and for the answer to the question below…
How To Enter:
Standing a chance to win one of these gorgeous sets is simple. Answer the question and follow the instructions below:
Question: Name one of the three new tools that have been added to CraftArtist 2 Professional
• Leave a comment in the thread below with answer (1 entry)
For bonus entries to the competition:
• Subscribe to the PlayPennies daily email update (1 entry)
• Tweet a link to this contest and leave your twitter link below (1 bonus entry)
Rules:
Contest ends on 14th October 2012
Open to UK residents only
One type of entry per household
Must complete email verification when subscribing
Must include a valid email address if commenting
Admin's decision is final in all cases