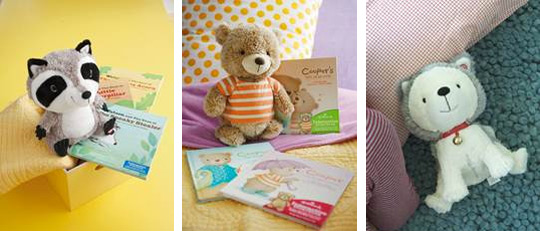 *** Contest now closed - prizes went out to robertssophie, clairetiptop, bethymorg, elaine73,  slbhill ***
The lovely folks over at Hallmark are giving us a little pressie this week, they've offered 5 of their Story Buddies to the PlayPennies parents! The Story Buddies are worth £19.99 each. If you win, you can choose from 3 styles, Cooper, Watson or Jingle (he's the Christmas edition). The story buddies are interactive soft toys that come with a book too - I think they're pretty cute! I watched the video of Watson in action. You read the story, and Watson responds with appropriate comments at certain points. Quite fun!
Well, if you would like to win one of these toys for your little one this Christmas, just answer this question for us:
What type of animal is the Watson story buddy?
Leave your answer in a comment below please. Make sure to leave a valid email address too, so we'll be able to get in touch if you win one of the 5 story buddies (Please note that first time commenters may be placed in the moderation queue for a little bit).
For a bonus competition entry, subscribe to the daily PlayPennies email updates.
For another free competition entry, tweet about this contest on Twitter and put the link or your Twitter username in the comments below. Remember to end your tweet with @playpennies so we'll see it on our Twitter feed. :) They sometimes run more comps on the Hallmark Twitter feed too, so feel free to follow them while you're there.
If you don't win one of the Story Buddies in this competition, and you're wanting to buy one online from Hallmark instead, the last day for Christmas delivery is the 20th December 2011.
Rules:
Competition ends on 30th November 2011
Open to UK residents only
1 type of entry per household
Must complete email verification when subscribing
Must include a valid email address if commenting
Admin's decision is final in all cases