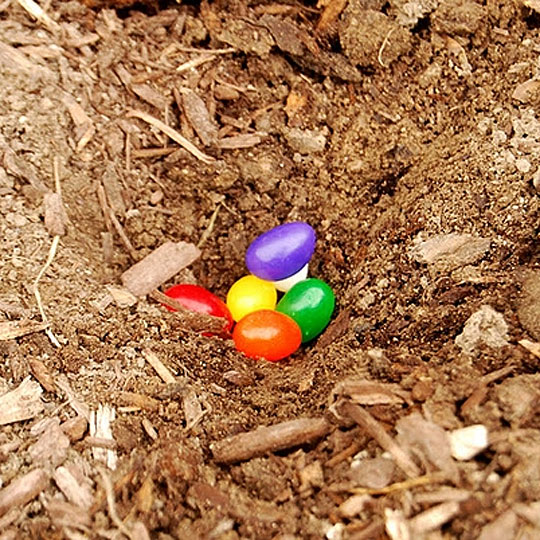 This is a very cute little idea that came from a picture that I saw on Pintrest, and which you can expand upon to suit whichever occasion you need it for.
It's very, very simple and will make for some wonderful childhood memories..."Do you remember when we used to plant jelly beans...? I really, REALLY, believed that they grew into lollipops!"
Step One: Plant some jelly beans with your child
If it's winter or you don't have a garden then plant them in a little pot and put them on the windowsill, otherwise you could plant them in the garden
Step Two:  Whilst your child is sleeping, stick large lollipops into the pot
When you're little one wakes up they'll be amazed and delighted that their planted jelly beans have 'flowered' into lollipops overnight!
For Christmas you could plant red and white jelly beans that grown into candy canes hung on small twigs - a candy cane tree.  For Easter, you could plant jelly beans that grow into chocolate mini eggs wrapped in foil (I'd just lay them on top of your pot or space in the garden, rather than burying them!).
The world really is your jelly bean planting oyster and I guarantee little kids will LOVE IT!