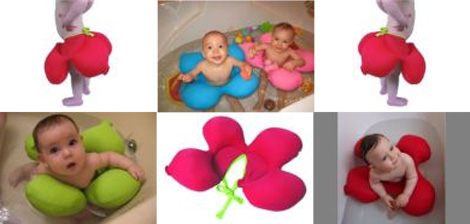 I've been looking at these Papillon baby bath rings for a good few weeks now and I can't decide if I think they are a good idea or not!
Basically they are like a little 'skirt' that ties around your baby's waist that supports them, and stops them toppling over, in the water.
The official list of reasons as to why they are GOOD ideas are thus:
The Papillon develops your baby's sense of independence
The Papillon enhances baby's motor skills and sense of balance
The Papillon supports your baby even when he tries to stand up
The Papillon outlasts a traditional bath seat
Made of gentle fabric, the Papillon is soft and comfortable against baby's sensitive skin
The Papillon lets you bathe all of your baby's body with ease
The Papillon lets you easily bathe two children or twins at a time
The Papillon is super easy to clean
The Papillon is light, foldable and portable
Does it teach them not to mess about in the bath otherwise they'll be going for a quick dive under the water though...? And that's where I get stuck.
I've always been part of the school of thought that says 'don't move things out of the way, teach your kids that not everything is for them to pick up and play with'.
And so it is when it comes to water - have fun, but be careful.
Not only that, I don't know what your kids are like but I wouldn't have been able to keep this on any of my three when they were small enough!
Good idea? Money for old rope?  What say YOU?