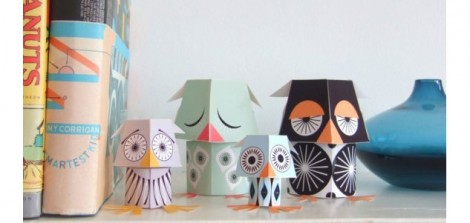 I like simple things; they make me happy.
Years and y e a r s ago I remember sitting down with my mum over the course of a week and we made an AMAZING African tribal mask out of paper.
It had different patterns on it and a huge spiky headdress, it was fabulous and I loved it, so these little Paper Pals from Mibo have really captured my heart.
These are lovely little projects you can complete with your children on a rainy day or just when you have some quiet time to kill.
There are several collections for you to choose from - my favourites are the Wise Guys, the Wild Bunch , the Carrot Crew and Eat, Bleat and the Bird - and all you have to do is pay the relevant cost via Paypal and the PDF templates will be sent to your registered PayPal email address.
Prices start at £2.44 for the Carrot Crew and go up to £3.50; all you need to put them together is some paper, a colour printer, scissors and some glue.
I'm off to pay for mine and am going to spend the afternoon happily making some Paper Pals just for me, all by myself, because I can!