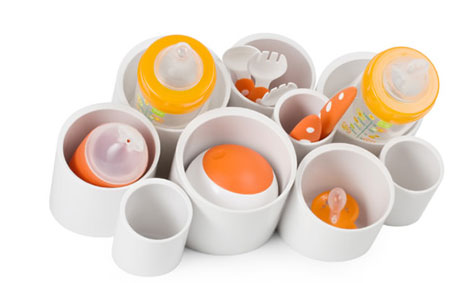 With cats, a dog and kids, my dream of living in show home loveliness will just have to wait for a while longer yet.
Whilst I don't live in a tip, my house can often look a little 'lived in' and I absolutely HAVE to know where everything is; finding good, effective and efficient storage for little things, and bits and pieces, is often the most difficult to find.
I think I've found it, in the form of the Stash from Boon.
Designed to keep baby paraphernalia ordered, and tidy, in any room of the house, I think it would also be great for non-baby things too.
I can see the Stash doing an awesome job as a desk tidy; I doubt it will stop the teenage pen thieves I live with from stealing every bright and shiny new writing implement that appears, but I can always live in hope!
The Stash retails for £19.99, comes in black or white and can be hung on the wall too, if you don't fancy having it sitting around on desks, windowsills or worktops and I think it's GREAT!