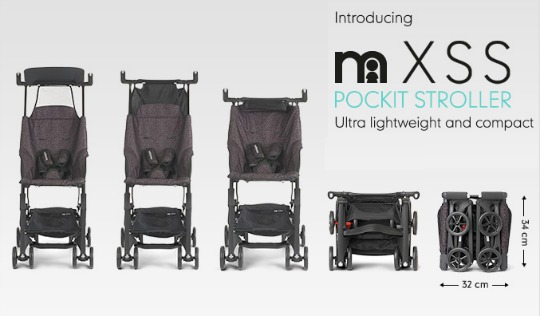 Did you see the video we showed you on our Facebook page of the amazing Pockit Stroller? It looked more like a transformer than a buggy as it folded down to such a small size, and we were told that it wouldn't be for sale until Spring next year... but Mothercare have started selling it now!
This is an award winning, ultra lightweight compact foldable stroller that folds down smaller than any other pushchair ever! It can fit into an overhead locker on a plane, tuck under seats on public transport, and can be carried over the shoulder in it's own travel bag! It really does have to be seen to be believed, and is selling exclusively at Mothercare right now for £129.99.
We had so many requests for this when the demonstration video came out that we think there are tons of you waiting for news of the XSS Pockit Stroller. If my youngest wasn't about to stop using his buggy altogether I would be snapping one of these up to replace my Quinny Zapp - this looks a fraction of the size!
The XSS Pockit Stroller comes with free delivery from Mothercare, and at present is being stocked in just this one grey pattern, although they say that they are considering others.
So what do you think of the Mothercare XSS Pockit Stroller?Let us know in the comments or over on our Facebook page.