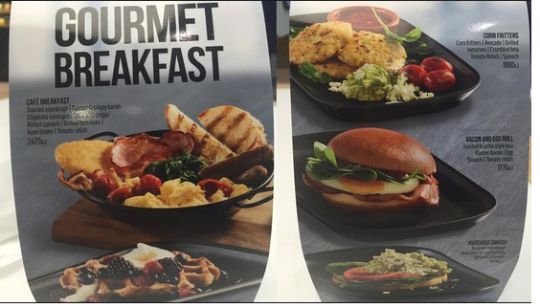 I am sat here drooling at the thought of a McDonalds Breakfast. Breakfast is my favourite time at the fast food chain and to be honest, I spent most Saturday's of my early-twenties, stuffing a McMuffin down my hungover throat. McDonalds are now trying to keep up with the foodies among us and have launched a new 'Gourmet' Breakfast range. Unfortunately, this is not in the United Kingdom as yet, but they are trialling it in the USA and parts of Australia. I reckon it's only a matter of time before it reaches here.
What kind of delights can you get from the new Gourmet Breakfast range at McDonalds?
The Cafe Breakfast looks absolutely divine but not something you would expect to be shoved into a box at McDonalds. It contains Toasted Sourdough, Rasher and Crispy Bacon, Chipolata Sausages, Scrambled Eggs, Wilted Spinach, Grilled Tomatoes, Hash Brown and Tomato Relish.
Corn Fritters served with Avocado, Grilled Tomatoes, Crumbled Feta, Tomato Relish and Spinach. A far cry from Pancakes and Syrup!
Bacon and Egg Roll that is made up of a Brioche Bun, Rasher Bacon, Egg, Spinach and Tomato Relish. Could this be more popular than a Egg and Bacon McMuffin?
Waffles with Berries. This for me is a step too far. I do not want to be served berries in McDonalds. I want greasy, calorific fast food that leaves me hungry an hour after consuming it!
What do you think of this new McDonald Breakfast? We can't help but wonder if the UK will welcome it with open arms, should it come here, or if we will snub it in favour of the good old McMuffin range.