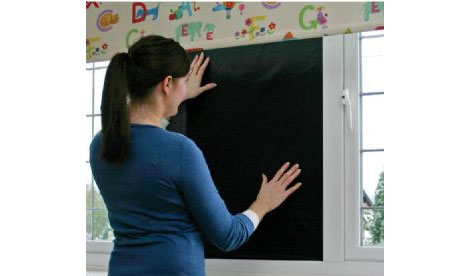 The evenings are noticeably drawing in and it's getting lighter later in the mornings now.
However, if you have a little one who wakes up at the first hint of daylight and struggles to go to sleep before it's pitch black, then you'll probably have looked around for some sort of blackout blind solution.
When the Teenagers were little they had blackout lining on their curtains, this was okay but light still streamed in around the edges.
I've written about Gro blackout blinds which stick to the window with sucker cups and are adjustable, but a couple of you have left comments to say you have odd-shaped windows and, as a result, STILL don't have a decent blackout solution.
I think I've found it for you!
In it's most simple terms, this is blackout blind on a roll.
It clings to the window using static and can be cut to fit odd-shaped and sized windows; YIPPPEEE!
Not only THAT, it's reusable too so in the mornings you just peel it off and put it somewhere appropriate, ready to be stuck back on when it's time to shut the light out again.
If it loses its static then you can just recharge it by placing it near the TV or rubbing it with a fibre cloth - that just reminds me of frantically rubbing balloons on jumpers, when I was a kid, to create enough static to stick them to the wall!
A roll of Magic Blackout Blind costs £29.99 and measures 8m long and contains 10 x A1 (60cm x 80cm) sized perforated sheets, but you can ignore the perforations and cut the blind to the size you want/need.
Let me know how this works for you if you have odd-shaped windows and decide to give it a go!