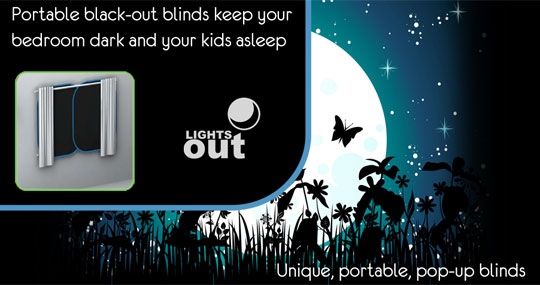 It's rare I come across a product which I think is SO superb, I want to tell every single parent I know all about it - Lights Out Blinds however, is one such product.
There aren't enough superlatives at my disposal to adequately convey just HOW genius I think these blackout blinds are; if you have a child who wakes up at the crack of dawn during the summer or can't get to sleep when it's light during the day, then you MUST go and look at Lights Out.
I think I've tried it all when it comes to blocking out light so the kids can sleep, from hanging up towels and blankets to taping black bin liners over the windows, black out blind curtain lining, the lot!
Then there are the portable blackout blinds which use suction cups in the corners, and adjust like the elastic waistbands on little boys trousers - not bad step in the right direction, but some parents have reported they're fiddly.
ALL HAIL, then, the utter genius of Lights Out blinds.
They fold out and pop up like pop-up tents, have a single suction cup on a cord in the middle that you attach the window, THEN you pull the cord tight through the centre until your Lights Out blind is tight against the wall (NOT the window, so all light is shut out) and then toggle it off with a little doofer similar to those on adjustable coat cords.
That all makes perfect sense to me, but I've watched the Lights Out blind video demonstration on their website www.lightsoutblinds.com 
Lights Out blinds are a mum invention - HURRAH! - Anne Clay was having a tough time creating a warm sleeping environment for her two children, so she invented her own blackout blind solution and Lights Out Blinds was born (I wonder if she had tried black sacks taped to the window too!).
The blinds retail for £34.99 and have just been awarded a Gold Lovedbyparents Award for the 'Best Sleep Aid' - there's lots of information and video demos showing you exactly how Lights Out blinds work over on their website; go and check them out, I think they're just marvellous!