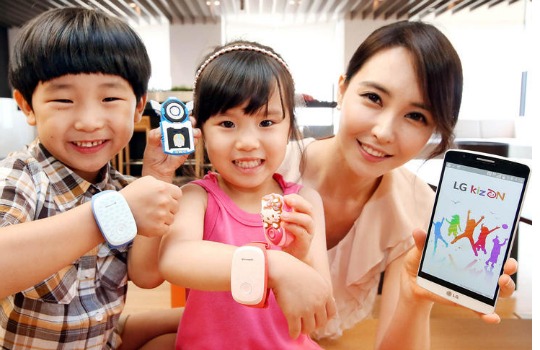 My son Ben likes to go out and play but he is always late coming in. There has been a couple of times he has been in a friend's house but I have not known which one. Off I go traipsing around door-to-door looking for him. All of his nearby friends are in his year at school but that doesn't stop me worrying where the heck is. LG have just solved my problem.
This week, electronic giants LG have announced the release of the KizON Wristband. A device that tells us the location of our child, and a means for us to contact them.
All the kids need to do to contact you is press a button on the wristband to dial your saved phone number and speak through the built-in microphone. Your child's KizON Wristband will be connected to you through an app on your smartphone.
With this safety gadget, you can ring your child and if they fail to answer a call within ten seconds, KizON will automatically connect the call to let the parents listen in.
It works with GPS, Wi-Fi and 2G/3G connectivity, and transmits location information in real time which means you can find your child pronto. There's nothing to say that a child wouldn't remove it if they didn't want to be found, but it's certainly better than handing an iPhone over to a seven year old.
As good as it sounds, I can see that a device like this could lull a parent into thinking that their child is safer than normal with this, and as previously pointed out there's nothing to stop your child from taking it off.
So, where can you get one? The LG KizON was released yesterday in South Korea and is due to be on sale in North American and Europe near the end of this year. There are no details of price yet, but we hope they are sensible about how much they go on sale for.
Image Credit: YU JANG-HUN/LG Electronics