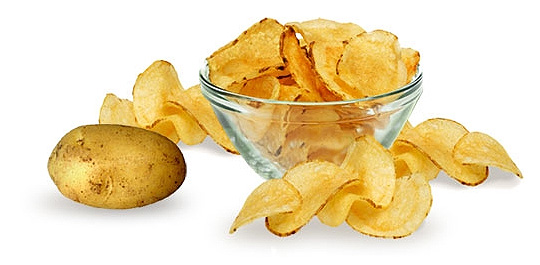 I've just been sitting here for a few minutes trying to think of anyone I know, child or adult, who isn't partial to the odd bag of crisps now and again - I didn't come up with a single one.
Most of my offline life is devoted to heath and fitness and, I'm sorry, but crisps are a big NO!  Their fat content is high, their sugar and salt content is high and they're just generally NOT GOOD for you.
However, a life without crisps can just be too much to bear for some people - if you're one of them then you're going to love this parenthack I came across this morning; if there's such a thing as a healthy crisp, this is about as close as it's going to get.
Click HERE to read the full hack 
It will tell you how to make your own crisps WITHOUT oil and WITHOUT salt - my top tip to add to this: add spices instead of salt to make them tasty.  It's funny too, just to give you a taster...
Let cool for a moment (the longest moment of your life), then shovel all the chips into your mouth. All except for one, which you may share with your child. If you have more than one child, break that one into equal pieces
By the way - if you don't want to eat white potatoes then use sweet potato instead.