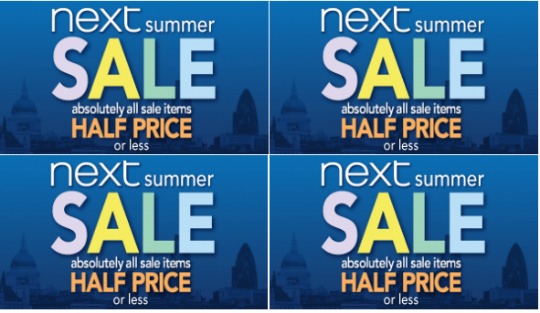 I got talking to one of the managers in my local Next who kindly gave me a date for the Next End of Summer Sale. Now, we cannot guarantee that this is concrete but since it came from such a reliable source, we are inclined to believe it. I LOVE Next sales and since they have started selling Orla Kiely, I will be hawk eyed on what's getting reduced.
The next Next Sale will be starting early on Saturday 18th July, if we are to believe our lovely Manager friend. I do know that they are given plenty of prior warning of Next dates so to organise staff. So, my countdown to get those bargains begin. It may be over a month away but that gives us time to save our pennies up for those cut price goodies.
Those with Next Accounts may be offered a VIP slot. These invitations for one comes through in an email in the week leading up to the sale itself.
If you cannot wait then check out their Clearance section, I think it's a Thursday that it gets updated with the most new items but it updates every day, except Sunday, in the wee small hours. You can really pick up bargains in here, between the sales. You can find that here*. There are some great Children's Clothing bargains at the moment.
Don't forget if you've never shopped online at Next before or haven't used your account for 6 months or more, you can save £10 when you spend £15 and all that info is here.