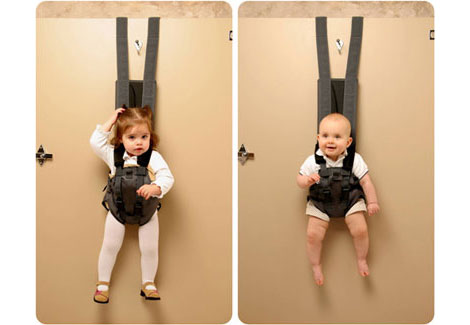 SIGH!  Not THAT sort of hanging - although tempting when your lovely little babies become hormone ravaged teenagers!
Picture this scenario quickly:
You've gone out on your own and decided to carry your little one in a sling, rather than haul the pushchair out.
You're mooching through town when all of a sudden nature calls and you need to visit the loo.  The Parent and Baby facilities don't have a loo where you are, so you have no option but to use the normal grown-up ones.
WHAT do you do with the baby in the sling?
I don't know about you, but the thought of perching on the pan with a child still slung round my shoulders is LESS than appealing!  Putting them on the floor is just a huge NO NO!!
So I'm rather enamoured with this BabyKeeper; hang them from the back of the door! Problem SOLVED!
HANG them from the back of the door!
They don't have to go anywhere near the floor, you can pee in peace (albeit that they're looking at you, but you'll be used to that by then anyway...trust me!) and you'll both be on your way again with no fuss and no drama.
I think it's clever - what say you?