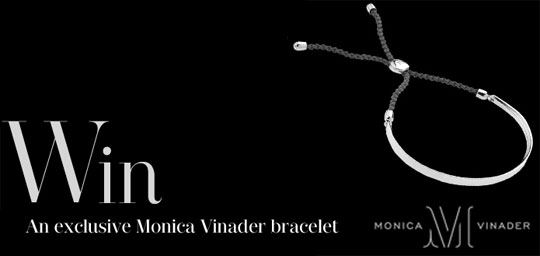 I've just come back from walking my dogs in the snow; they love it, I don't - put me on a seven-night Mediterranean cruise NOW, PLEASE!  That's what is up for grabs at the end of this competition.
Just guess what you think is the answer to the question (you don't need to be right) and fill in your details before 29 February.
IF, on the other hand, you're a fan of snow, ice and cold then you might prefer to enter this competition to win a holiday to Iceland instead of the Med'.
The answer to the question is 'Vatnajokull' (try and pronounce it, go on - I dare you *grin*) and you need to make sure you submit your entries before 16 March.
If you're looking for a bit of bling that's understated, elegant and comes from Harrods then enter this competition to win a Monica Vinader bracelet - it's made from sterling silver and can be engraved with a message of your choice.
Simply fill in your details before 15 February to be in with a chance of winning.
I'm rather fond of shopping in John Lewis now and again; I'm even more fond of it when I'm not footing the bill, so £500 of John Lewis vouchers would be rather nice!
If you'd like to have them to spend, just tell John Lewis when your car and house insurance renewal dates are, before 29 February, and they'll enter you into the draw.
GOOD LUCK!
Thanks to retiredcynic, Dipsy 11, marba01 and andywedge at HUKD