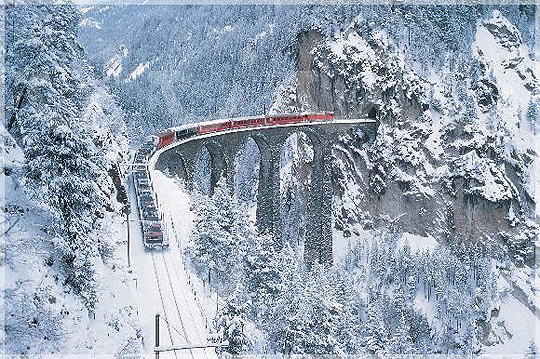 Just in case you haven't had enough of the snow and ice, you can win a trip on the Glacier Express (it sounds properly Christmassy to me! OOOOH, did I mention the C word already?! Shame on me, but with all the snow around, everywhere looks rather festive).
The Glacier Express is an amazing train that will take you on a route that is one of the most famous and beautiful in the world with breathtaking views of the Swiss Alps, or so the official blurb says.
The first-class trip includes four-nights' accommodation, three-course lunches on the Glacier Express, as well as four-star accommodation and return flights from London.
You don't have to answer any daft questions, just hand over your details before 31 May to be in with a chance of winning.
For those of you who are more cold blooded and like to bask in the sunshine at the beginning of the day, to warm up, then perhaps seven-day holiday away at the Barcelo Castillo Beach Resort in Fuerteventura will sooth your frost bitten bones.
Again, you don't have to answer any questions and, again, you must submit your details before 31 May.
And finally, for those of you who just want cash to splash on a holiday of your own choosing, here's the chance to win £2 700.
The answer to the question is: C (Toy Story) and the closing date for online entries is 3 April at 5pm
GOOD LUCK!
Thanks to pjj1805 and Painkiller at HUKD