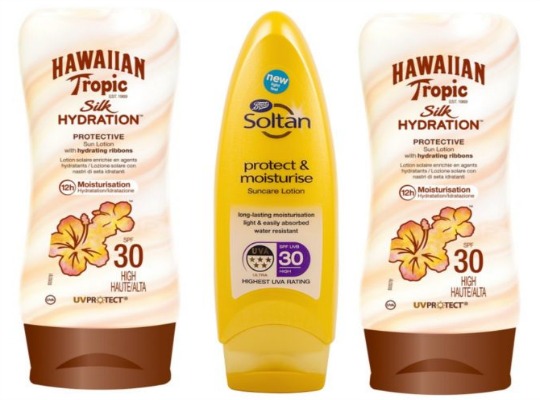 When you buy Sun Cream you expect it to protect you from harmful UVA and UVB radiation. They can really cost £££'s so the last think you want is to buy some only to find out that they are not keeping your skin safe. Consumer organisation Which? launched an investigation that involved testing thirteen products with an SPF of 30. An assortment of brands like Hawaiian Tropic, Garnier Ambre Solaire and Boots Soltan sun creams were tested.
The results of this tested proved very interesting indeed. Some failed to provide the SPF level protection that they claimed to.
Here's what Which? said "Don't Buy" to:
Boots Soltan Protect & Moisturise Lotion SPF30 (200ml)*:The Which? test found that this Boots Soltan sun lotion provides just under two thirds of the SPF protection it claims. That's an astonishing result from such a well known brand. The test showed that it does meet the EU recommendation for UVA protection but failed the Which? SPF tests TWICE.
Hawaiian Tropic Silk Hydration Lotion SPF30 (180ml)*: According to the Which 2015 test results, this Hawaiian Tropic lotion failed TWICE. It does meet EU products for UVA protection though.
Here's three that have failed in recent years but the "failed test" batches are still on the store shelves:
Hawaiian Tropic Satin Protection Ultra Radiance Sun Lotion SPF30 (200ml) & Piz Buin Ultra Light Dry Touch Sun Fluid SPF30 (150ml): These two sun creams failed the Which? SPF tests in 2014 and this year when tested again.The Piz Buin Sun Fluid is getting it's formula changed. It won't be on sale until 2017, which means this "failed batch" is still out there.
Malibu Protective Lotion SPF30 (200ml): This failed the 2014 tests twice for insufficient SPF30 and UVA protection. The new formula passed both SPF and UVA tests in the 2015 series of tests. However, it is thought that the old "stuff" is still out there but there's a way to tell. The new formula has a reference code on the back of the bottle that starts with FM.
All brands mentioned were made aware of the findings by Which? and state that all the products are tested in accordance with international test methods and meet their SPF claim.
If you do need sun cream and wish to avoid these brands then check out this glitch from Marks and Spencer here*.