Denim Nappies: Fashionista Or Fashion Victim?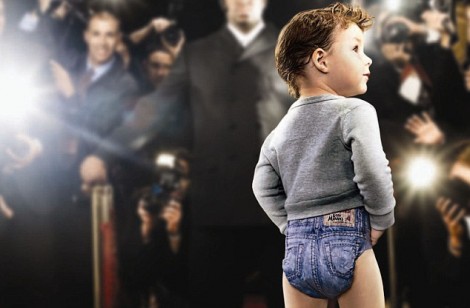 Did you know that denim originally hails from France?
Nor me until a quick bit of research revealed that when Columbus took to the high seas on the Santa Maria in 1492, her sails were made from Serge de Nimes, fabric of Nimes.  This was a hard-wearing and sturdy material which was also used by Italian sailors from Genoa for their trousers, and it's widely thought that the name jeans comes from there.
I think almost everyone on the planet has an item or two of denim clothing in their wardrobes...but what about denim nappies?  What do we think of these?
Good? After all, anything that makes nappies look cool can only be a good thing, right?
Bad? You have to be kidding! There's plenty of time for kids to develop hang ups about their wardrobes like the rest of us later.
What's all the fuss about?! No one complains that nappies with dinosaurs printed on them is an attempt to brainwash tiny tots into taking up a career as a Paleontologist - get over it, they're just nappies!
These denim look-a-like nappies from Huggies - complete with pocket styling and everything else that makes them look like a pair of denim shorts - are currently limited edition only and if you want to grab some then click HERE to find out where and when they'll be available!
By they way, if you're a washable nappy fan you can also get denim-look cotton covers for those too...just in case you were feeling left out for a minute there.