Coverdry Car Seat And 3-in-1 Bed Protector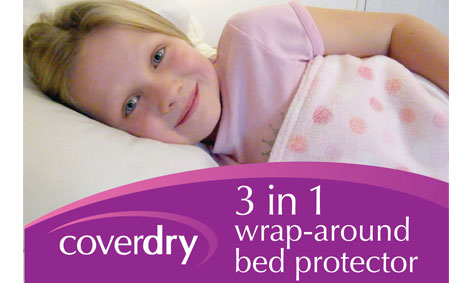 I've been through the whole potty training experience three times now (four, if you include my own...I don't remember much about that though) and there were times with my eldest two when it felt like I was doing nothing but wash bedding.
Tracy Hollins is also a mum of three and felt the very same way, the difference between her and me is she actually went on to do something about it and invented the Coverdry 3-in-1 bed protector which protects the sheet AND quilt, making life just a little less stressful.
"As a working mum having to wash the bed covers and quilt most days was a real bind as the bed protectors would only protect the bottom sheet."
The Coverdry bed protector wraps around your child and secures with four small Velcro straps; it protects the quilt, pillow and bottom sheet from accidents.
It can also be used as a flat sheet for use below or on top of the bottom sheet and it works well as a throw too, protecting quilts from marks or spills.
And just to top it off, the Coverdry bed protector is machine washable at 60ºC and can be tumble or line dried.
There's also a car seat version too so you can kiss goodbye to the battle of removing, washing and trying to fit car seat covers back on after little accidents in the car.
Tracy launched the 3-in-1 Coverdry bed protector at London's Baby Show in October 2010 and parents are calling it 'a lifesaver' and 'a godsend'.
The car seat protectors are £7.99 and the 3-in-1 bed protector can be pre-ordered now for £29.99.
Happy dryness!