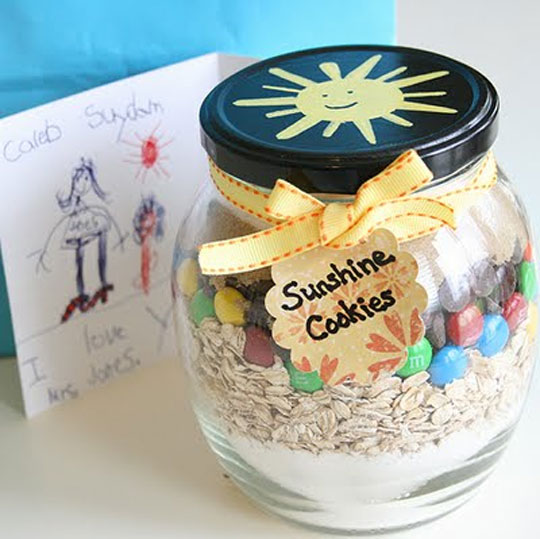 So, that time of year is rapidly approaching when parents try to out-do each other with the end of school year gift for the teacher - when did that become so big? It wasn't like that when I was at school! - and when teachers are either rubbing their hands together with glee or dreading the inevitable tat that'll be landing on their desks at the end of next month.
It's not the gift-giving I'm averse to, it's the way its got a little bit out of control - at least that's how I see things at the end of the summer term in the playground.
When I came across the Memories in a Jar idea the other day, I also saw this Cookie Mix in a Jar idea which I think would make for a very thoughtful and inexpensive gift for a teacher at the end of term.
For my money it shows thought and planning a little bit above and beyond buying a box of Milk Tray or Thorntons on the way to school on the last day. I think it would raise a smile when your child's teacher took their Cookie Mix in a Jar home, whilst they were baking their cookies AND most certainly whilst they were eating them.
You can adapt this idea to suit almost any occasion, the only limit is your imagination and whether the recipient has an allergy to a particular ingredient.
Don't forget to include the cooking instructions in a little card!