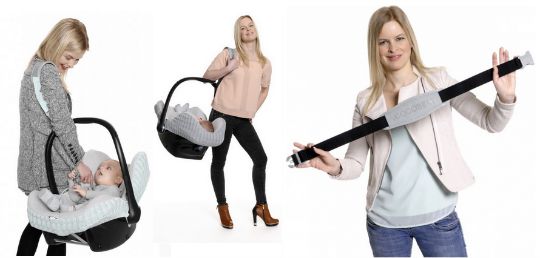 Have you heard of Cocobelt before? It's a brand new product that is designed to make it easier to carry a baby car seat, and from the reaction amongst the Playpennies team it looks as though it could be a big hit.
It's a belt that attaches to the handles of the infant baby carrier car seat and goes over your shoulder, meaning that the weight is better distributed rather than being just on your arms, so it becomes easier and less painful to carry.
It was designed by mother and model Manon Corts (that's her and her baby son in the photos) and has just recently gone on sale in this country. It is selling at £21.99 from GadgetBaby, and comes with free delivery as well.
I know I had difficulty carrying my children in their car seat, being short of stature with rather large babies, and I think this might have been very useful indeed.
What do you think of the Cocobelt?