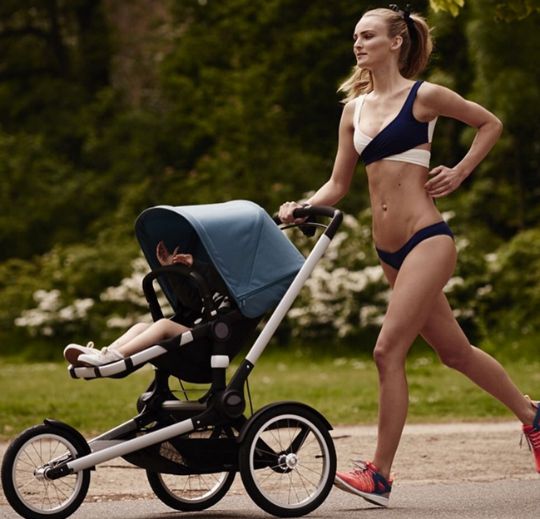 A few days ago Bugaboo published an interview on their website with 23 year old Dutch model and "avid runner" Ymre Stiekema on how she uses the buggy in her fitness routine. So far, so blah. But to publicise the interview they published the picture above on their Facebook page, and the proverbial hit the fan.
Most parents who check out the Bugaboo Facebook page were not amused, and they did not hold back in their comments. To summarise the arguments most were upset about the use of a model in a bikini to sell a buggy - not exactly the way most parents push their buggy around the park is it? Exactly who were Bugaboo aiming the product at with an ad like this? And why was she not dressed more appropriately for running? 
Some comments concerned the undue pressure this was putting on mums to snap back into shape after giving birth, and that this was another example of an image that did not represent parents.
Others decided to find the whole thing laughable and concentrated on how unrealistic the picture was - "I prefer running naked with my children" being one of the most amusing.
If you read the original interview here you can see that the product is aimed specifically at those who want to run with their child strapped into a buggy as part of their fitness regime, and that it's a fairly specialised product. The other pictures in the article show Ymre wearing running clothing using the buggy. Have Bugaboo just picked this particular picture as a way of generating interest and publicity, because they have certainly got an awful lot of people talking about them!
What do you think about this Bugaboo Runner promotional image? Let us know in the comments or over on our Facebook page.